Are you planning for Umrah and want to know the best age to perform Umrah? It is a sad reality in our society that most of our people initiate the planning process for Umrah and Hajj when they are in their late 40s. Why is it so? Is this a culture or a trend? Or is it a worship for old Muslims only? What is the guarantee that we will be alive by that time? Neither it is the worship of old Muslims nor do we have the guarantee to be alive by then.
We actually get so busy making a living and supporting our families that we often forget to take time out from our routines to perform Umrah/Hajj. When we are finally relieved from our responsibilities and our children are finally independent, we are in our late 40s suffering from diabetes, blood pressure, weak knees, and weak muscles and this is when we choose to visit the Holy Places of Mecca and Madina.
How to perform Umrah
Ihram, Tawaf, Sai, and Halq/Taqsir are the four main practices to perform Umrah.
Tawaf and Sai are two essential rituals of the Umrah.
Tawaf is to circumambulate the Kaaba 7 times. If you are good at math, you must easily understand that when you are taking rounds around a center, the greater your radius from the center, the more the distance to cover one complete round. At peak times, you will not be able to find a place closer to the Kaaba resulting in a longer tawaf as compared to those who are closer to the Kaaba.
Sai is a ritual in which the Muhrim perform seven trips between the two mountains Safa and Marwa. One trip is approximately 450m which means that a complete ritual will make you cover a distance of more than 3km. Apart from the distance covered during these two rituals, a Muhrim will also have to walk from their hotel room to Masjid Ul Haram, enter the mosque, then exit the mosque and go for Halq/Taqsir (head shaving/hair trimming). The distance doesn't seem to be that much but believe me the Masjid is so big that this distance will not be less than 2 km.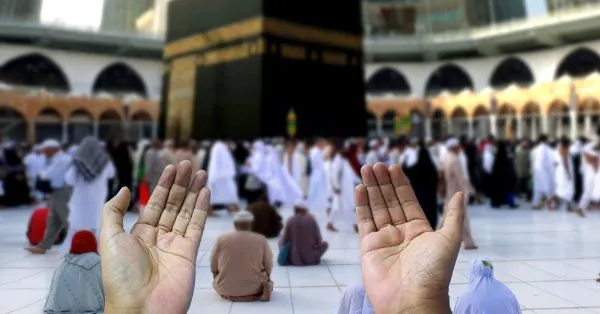 How does Umrah demand effort?
Umrah and Hajj are worship that demands a lot of exertion. The majority of the Muhrim (pilgrims in the state of Ihram) from the sub-continent are old and face difficulties. I did my Umrah recently. I stayed in both Mecca and Madinah on sharing basis and observed my roommates, who were all more than 50 years of age, suffering from fatigue and fever due to exertion. They, unfortunately, could not utilize the time to wash their sins as efficiently as a young energetic man would have.
To keep it short, a distance of more than 5km (at minimum) is covered by a Muhrim during one Umrah. A person who is old, not used to walking, and suffering from some diseases will surely face difficulties during and after performing Umrah.
Bonus:
HIKING TECHNIQUES AND TIPS FOR BEGINNERS
Moreover, the weather condition can also play a pivotal role. Performing these activities on a sunny day will surely be more difficult than on a cloudy day in summer. I have seen people suffering from fevers, and body aches. After performing their first umrah ultimately did not being able to properly worship while being at the holiest place.
Umrah rules
When people are in Mecca, they usually try to perform maximum Nafl Tawaf. As per the new COVID Policy, to reduce the number of people in the Mataf (the place where the Kaaba is located) only Muhrim are allowed to enter. So, if you want to perform Nafl Tawaf then you will have to go on the first floor. The radius gets larger and in one round there is approximately 1km. So, a complete tawaf on the first floor would mean 7km.
Holy places to visit in Mecca and Medina
Ziarat in Mecca (Ghar – e – Hira, Ghar – e – Sor) also requires a lot of effort to reach. In my 4 days of stay in Mecca, I visited the Ghar – e – Hira. The hike has been made easier by developing stairs from the rocks but still, it took me 30 minutes to get to the top. The elders were struggling due to the hot weather (the time was 1500hrs). On the way to the top, they were multiple stalls at regular intervals selling cold water and lime. Those who were struggling to climb used to rest at these stalls, freshen up by drinking lime and then resume their journey to the top.
Worship is comparatively easier in the Holy Place of Madina. The hotels are close to Masjid Nabwi and you can spend good quality time in the Masjid without exerting much.
The best age to perform Umrah
I am pretty sure with all the information given above. You would have gotten the idea that if you are in Mecca for Umrah, you will have to exert a lot. Which must be very difficult for elder people. So, what should be the best age to perform Umrah? As per my experience, if you have the resources you must perform Umrah (or Hajj) before you enter your thirties.
At this age, an individual is young and energetic, and walking 10 – 15km daily would not be a problem. He will not get sick and tired from the exertion and can utilize maximum time to worship rather than resting trying to recover from illness and fever.
The problems in planning Umrah at a young age and their solution?
At this age, the majority of people are usually starting their careers, trying to get stable, supporting their families, or getting married. An individual in this era of their lifetime will have to face the following hindrances to perform Umrah.
Budget Constraints
At the start of a career, it is usually difficult to save money while trying to make a living or saving for marriage. Umrah packages are quite expensive nowadays due to the economic crisis.
Time Constraints
Usually, Umrah packages are for 21 or 28 days. It is almost impossible for a young individual to take that much time out during his/her struggling days.
Benefits of performing Umrah at a young age
Here comes the benefit of performing Umrah at a young age. At this age, we are physically fit and energetic. We don't need a high-fi five-star hotel close to Masjid Haram to stay. The purpose of being at this holy place is to spend maximum time in Haram, and worship as much as one can.
The hotel should just be a place to spend 4 – 5 hours of sleep and nothing. Get ourselves an average hotel on sharing basis, slightly away from the Masjid (walking distance of 1km approximately). The hotel will be cheaper and will ultimately reduce the overall cost of your package. If you cannot take 21 or 28 days out of your life. You can easily get a customized 7 or 10 days package.
Umrah expenses and packages
Find a good travel agent and get a shorter duration package planned. The only problem with such a customized package is that as you don't have a group of your own. You will be adjusted into other groups by your travel agent for inland traveling (from the airport to Mecca, Mecca to Madina, etc). This sometimes results in some minor managerial issues.
In the current economic scenario, if you plan your Umrah through a good travel agent for 7 days and stay in average hotels. Then the minimum cost of the package will approximately be PKR 200-250k. The package for Umrah packages from the USA will cost around 1500-2000$. This value includes your flight ticket, visa, accommodation, and inland traveling in KSA. You can plan a trip yourself. But inland traveling can get costly as you will be traveling alone without a group.
Conclusion
It is a dream of every Muslim to go to the holy places and worship the Almighty Allah, if we have the resources we should not wait till our late 40s as we won't be able to effectively worship as we can when we are young. We should try to plan for Umrah at a younger age when we have the physical strength and are not burdened by the responsibilities of raising children and supporting a family.
Pro Tip: If you are getting married, instead of spending a fortune on the marriage, save some bucks and go for Umrah with your spouse. This will be the perfect start to the purest relationship.