Pakistan tourism industry has grown by more than 300% according to a recent analysis. This is an amazing opportunity for investors to grow their businesses. Pakistan is one of the world's famous tourist destinations. Moreover, tourism in Pakistan is increasing day by day.
Pakistan Tourism Industry
Investment opportunities in the tourism sector of Pakistan are open. The Pakistan Tourism Industry Corporation intends to lease out its properties located in Gilgit-Baltistan & Azad and Jammu Kashmir. This is a golden opportunity to avail reputed firms/companies / private corporations. They shall operate, improve and develop the motels while keeping intact their heritage value and ecosystem. The lessor will be expected to operate the properties with a view to providing high-standard hospitality services to the general public/tourists. Besides, uplifting the tourism sector of Pakistan.
In addition, this will not only make effective utilization of the PTDC properties and lands. Also, this ensures an adequate supply of world-class accommodation facilities to the tourists at selected destinations. It will also encourage competition in the hospitality industry and bring improvement in related services delivery.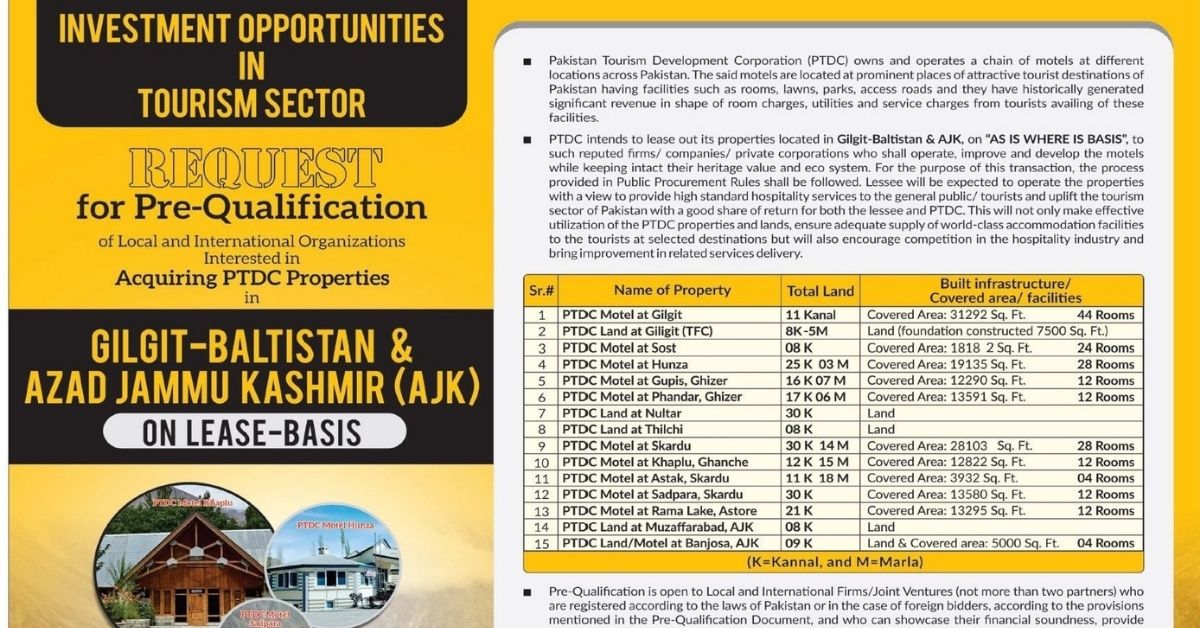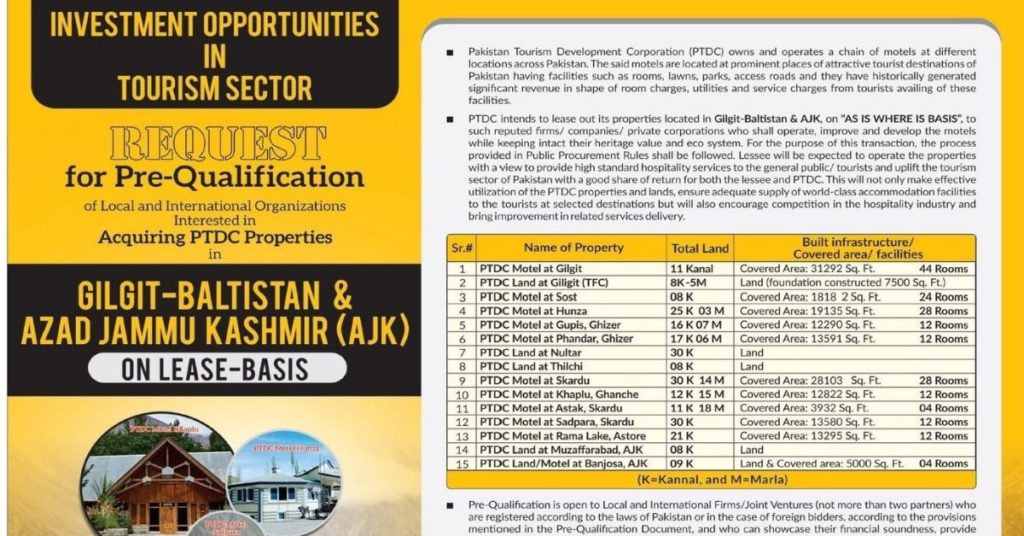 How to apply for investing in Pakistan Tourism Sector?
The pre-qualification document is available at (www.ppra.org.pk) or the PTDC official website. The fee is 2500 which is not refundable.
What is the last date of document submission?
The last day for submission of bids is October 15, 2021, till 3:00 PM. Please download HD Advertisement. Also, get the bid/tender documents from the PPRA website or visit the PTDC official website.
Tourism near me
The best places to visit in Islamabad are explained in detail. Also, you can find a lot of FREE tourism guides for Pakistan in my blog. I would love to answer if you have any queries regarding the Pakistan tourism Industry.
You can share your suggestions in the comment section below… stay connected!