When the rain starts to pour, and you're caught without an umbrella, what can save the day? A trusty waterproof poncho! These handy garments are like a shield against the rain, keeping you dry and stylish. This article explores some of the best waterproof ponchos that blend functionality with fashion, helping you stay comfortable and confident no matter the weather.
Here is the list of our top-picked waterproof ponchos
Bonus:
BEST BALACLAVA FOR WINTER HIKING
8 Best Waterproof Ponchos
Let's discuss the above-given list in detail.
Helikon-Tex Swagman Roll Military Poncho – (Editor's Pick For The Best Multi-Purpose Ponchos)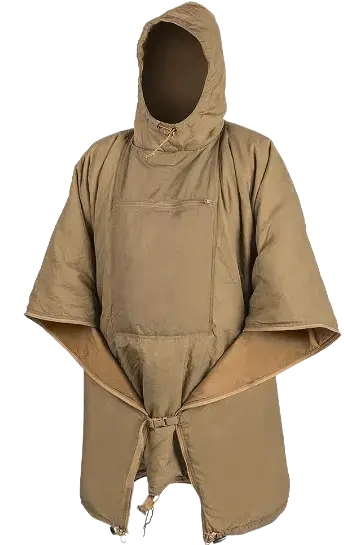 The Helikon-Tex Swagman Roll Military Poncho is versatile outdoor gear. It is a poncho and can be transformed into a shelter or sleeping bag cover. Designed for various weather conditions, it's made from durable materials. The poncho offers protection from rain and wind. It's suitable for camping, hiking, and other outdoor activities. The compact design makes it easy to carry. It features buttons and snaps for easy adjustments and can be worn as a poncho or layered over a backpack. Overall, it's practical and adaptable equipment for outdoor enthusiasts.
| Pros | Cons |
| --- | --- |
| ✅ Compact and Lightweight. | ❌ Expensive. |
| ✅ Emergency Shelter. | ❌ Less Breathable. |
| ✅ Weather Protection. | |
Sea to Summit Ultra-SIL Nano Tarp Poncho – (Ultralight Backpacking Poncho)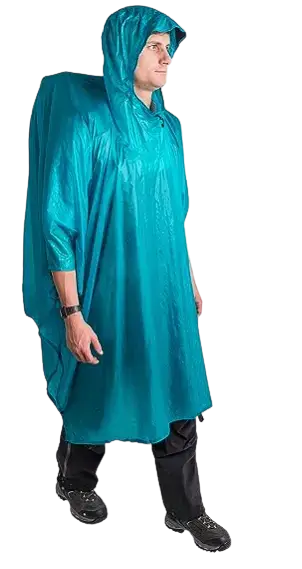 The Sea to Summit Ultra-SIL Nano Tarp Poncho is a clever outdoor companion. It's a waterproof and lightweight poncho that also doubles as a tarp. Stay dry in unexpected rain, or use it for shade on sunny days. It's compact and won't weigh you down during hikes. The versatile design suits hikers, campers, and travellers. The rigid materials ensure durability. Whether for sudden downpours or creating a quick shelter, this poncho-tarp combo is a practical and reliable choice for nature enthusiasts. It's like having two valuable tools in one, making your outdoor experiences more comfortable and enjoyable.
| Pros | Cons |
| --- | --- |
| ✅ Quick Setup. | ❌ Bulkiness. |
| ✅ Space-saving. | ❌ Sizing issues. |
| ✅ Durable Material. | |
VAUDE Men's Hiking Backpack Poncho – (Best Rain Poncho For Hiking)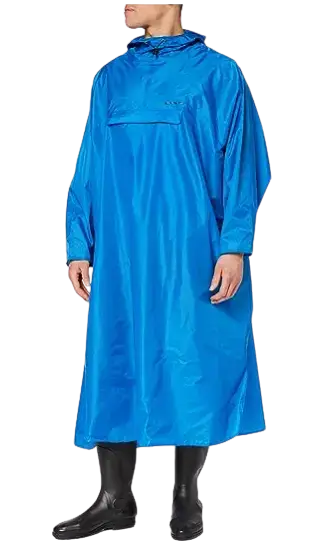 The VAUDE Men's Hiking Backpack Poncho is an intelligent outdoor essential. It's a rain poncho that also covers your backpack. Keep yourself and your belongings dry in unexpected showers. Designed for hikers, it's easy to carry and simple to put on. This poncho is like a shield against rain for you and your backpack. It's a reliable choice for staying comfortable and prepared during your hikes. With this poncho, you won't have to worry about sudden rain ruining your outdoor adventures. It's a practical solution that adds convenience to your trips.
| Pros | Cons |
| --- | --- |
| ✅ Ease of Use. | ❌ Limited Mobility. |
| ✅ Weather Protection. | ❌ Lack of Features. |
| ✅ Waterproof. | ❌ Difficult to pack. |
OneTigris TENTSFORMER Bushcraft Poncho – (Best Waterproof Ponchos For Camping)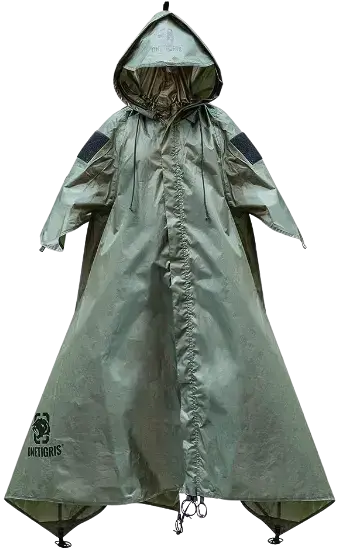 The OneTigris TENTSFORMER Bushcraft Poncho is a versatile outdoor gear. A rain poncho can also be set up as a shelter. Stay dry during unexpected rain or create a simple cover easily. Designed for outdoor enthusiasts, it's lightweight and user-friendly. This poncho doubles as a handy shelter, giving you more adventure options. It's like having two valuable tools in one, making your outdoor experiences more comfortable and adaptable. Whether it's a sudden downpour or a need for quick shade, this poncho is a practical and reliable choice for nature lovers.
| Pros | Cons |
| --- | --- |
| ✅ Innovative Design. | ❌ Complex Setup. |
| ✅ Bushcraft Use. | ❌ Limited Shelter Space. |
| ✅ Multi-Use. | ❌ Transition Difficulty. |
Charles River Apparel men's Pacific Poncho – (Best Rain Poncho With Hood)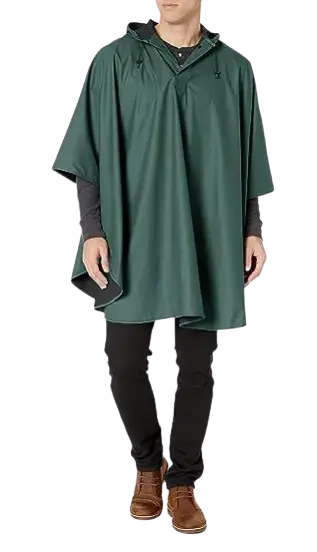 The Charles River Apparel Men's Pacific Poncho is a great outdoor companion. It's a waterproof poncho for staying dry in the rain. Designed with practicality, it's easy to put on and take off. This poncho offers protection from unexpected downpours, keeping you comfortable during outdoor activities. It's like having a shield against the rain that's also comfortable to wear. This poncho is a reliable choice whether hiking, camping, or just out and about. Don't let the rain dampen your spirits – stay dry and cozy with this functional and user-friendly poncho.
| Pros | Cons |
| --- | --- |
| ✅ Budget-Friendly. | ❌ Bulkiness. |
| ✅ Packable. | ❌ Less effective in the wind. |
| ✅ Versatile. | ❌ Sizing issues. |
Arcturus Rain Ponchos Reusable Ripstop Nylon – (Best Rain Poncho For Hunting, Fishing And Camping)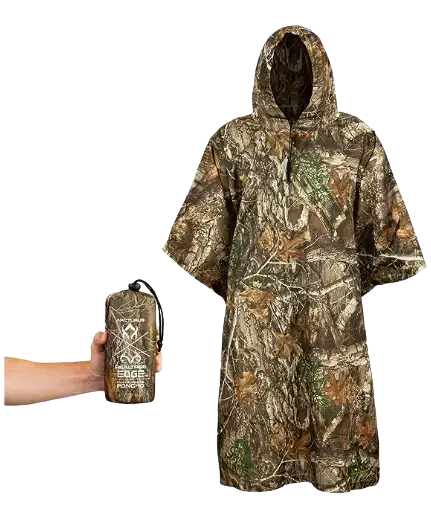 The Arcturus Rain Ponchos in Reusable Ripstop Nylon is a must-have for outdoor adventures. These ponchos are designed to keep you dry in wet weather. They're easy to use and can be worn comfortably. These ponchos act as your shield against rain, ensuring you stay cozy and protected. They're like a reliable friend in sudden downpours. Crafted from durable material, they're built to last and can be used multiple times. Whether hiking, travelling, or attending events, these ponchos offer a practical solution to stay dry and comfortable. Enjoy your outdoor moments without worrying about the rain with these dependable ponchos.
| Pros | Cons |
| --- | --- |
| ✅ Adjustable Hood. | ❌ Less breathable. |
| ✅ Reusable Ripstop Nylon. | |
| ✅ Good coverage. | |
SaphiRose Unisex Rain Poncho – (Best Adult Women Poncho For Riding, Running, Walking, Travelling And Picnic)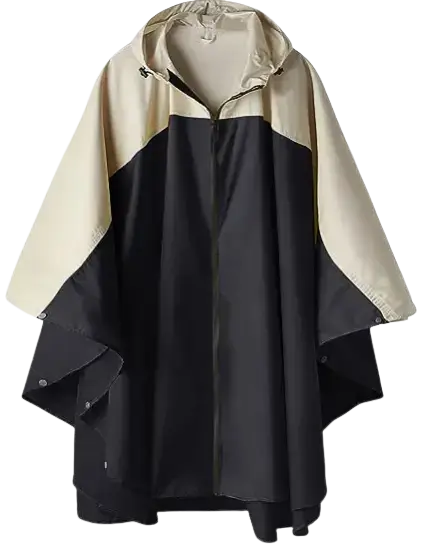 The SaphiRose Unisex Rain Poncho is a versatile addition to your outdoor gear. Designed for everyone, this poncho keeps you dry when it's raining. It's easy to put on and feels comfortable. It's like wearing a protective cover that keeps you cozy during sudden showers. You can rely on it to keep you dry in unexpected weather. Its simple yet functional design makes it a practical choice for various outdoor activities. Whether heading for a walk or a festival, this poncho ensures you can embrace the outdoors without getting drenched.
| Pros | Cons |
| --- | --- |
| ✅ Affordable. | ❌ Less durable. |
| ✅ Unique design. | ❌ Lack of pockets and zipper. |
| ✅ Waterproof and lightweight. | |
FROGG TOGGS Ultra-lite2 Waterproof Poncho – (Best Hiking Poncho)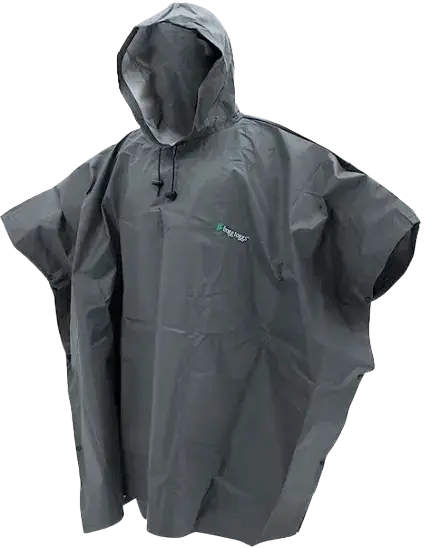 The FROGG TOGGS Ultra-lite2 Waterproof Poncho is a fantastic companion for outdoor adventures. This poncho is all about keeping you dry when it's pouring. It's super easy to put on and wear comfortably. Think of it as your trusty rain blocker, shielding you from unexpected downpours. You can count on it to keep you dry and cozy, even in surprise rainstorms. Its lightweight and functional design makes it a no-fuss choice for various outdoor activities. Whether camping, hiking, or just out and about, this poncho ensures you enjoy the outdoors without getting soaked.
| Pros | Cons |
| --- | --- |
| ✅ Weather Protection. | ❌ Less windproof. |
| ✅ Waterproof and Breathable. | ❌ Lack of durability. |
| ✅ Hooded Design. | |
Types Of Ponchos
Ponchos are versatile outer garments with different styles, materials, and designs. Here are some common types:
Traditional Poncho: Simple fabric with a head hole, offers protection, linked to South American cultures.
Rain Poncho: Shields from the rain with waterproof materials, often disposable, useful for outdoor events.
Mexican Poncho: Colorful, intricate patterns inspired by Mexican clothing, usually made from wool.
Fleece Poncho: Soft and warm, made from fleece material, great for cold weather.
Wool Poncho: Heavier and insulated, suitable for colder climates, woven from natural wool.
Cape Poncho: Open and flowing, resembling capes, stylish look.
Knit or Crochet Poncho: Made with knitting or crochet, lightweight to chunky options.
Hooded Poncho: Has an attached hood and offers extra protection from elements.
Pullover Poncho: Front closure or buttons for convenience in wearing and removal.
Travel Poncho: Lightweight, compact, ideal for travellers needing an extra layer.
Patterned or Embellished Poncho: Comes in various patterns, colours, and decorations.
Convertible Poncho: Can be worn in multiple ways, like a scarf or wrap dress.
Poncho styles can vary due to cultural influences and trends. There's a poncho whether you need the functionality, class, or both.
Cloak Vs Poncho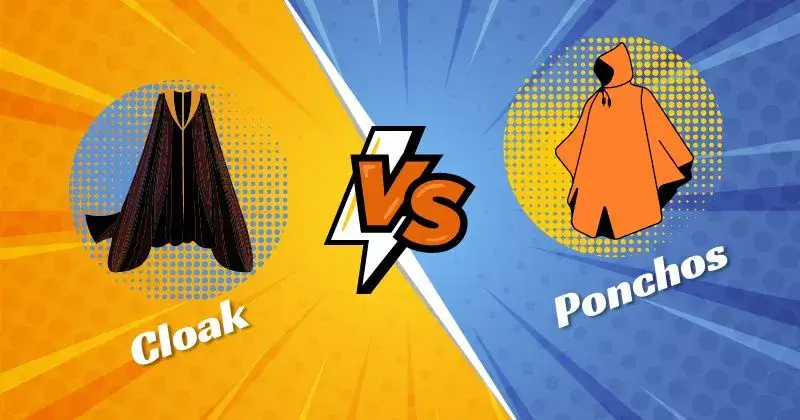 The main difference between cloaks and ponchos is that they are both types of outerwear. Cloaks are long, flowing garments that often have hoods and are worn over other clothes. Ponchos are simple, single-piece garments with a hole in the centre for the head and are worn on top of clothing.
Cloaks are more dramatic and formal, often associated with historical or fantasy clothing. Ponchos, on the other hand, are generally more casual and versatile in style.
Cloaks can provide more coverage and warmth due to their length and often thicker materials. Ponchos offer easy wearing and removal and can be a lighter option.
Both cloaks and ponchos can be found in various materials, colours, and patterns to suit personal preferences. The choice between the two depends on the desired style and practicality for different occasions and weather conditions. For more ideas, visit my Pinterest.
Buying Guide Of Best Waterproof Ponchos
When unexpected rain hits, an excellent waterproof poncho is a must-have. Whether you love hiking, camping, travelling, or just being ready for rainy days, picking the suitable poncho is essential. Here's a simple guide to help you choose:
Material and Waterproofing: Pick a poncho from tough, waterproof fabrics like coated nylon or polyester. Check the waterproof rating, usually in millimetres (mm). Look for 5000mm or higher for good waterproofing.
Design and Coverage: Think about how the poncho is shaped. Look for ones that cover you well and your stuff too. Some have extra length in the front and back to protect your legs and backpack. Hoods you can adjust help keep the rain off your face.
Portability and Weight: A great poncho is light and easy to pack. Find one with a small bag to put away neatly.
Breathability: It should let your body breathe while keeping you dry. Look for those with unique fabrics or holes under the arms to help.
Size and Fit: Ponchos come in different sizes. Consider if you'll wear it over other clothes and need space to move. Adjustable parts can help you make it fit just right.
Extra Features: Some ponchos have neat extras like special seams for more waterproofing, pockets with zippers for your stuff, and parts that shine in the dark for safety.
Versatility: Think about how you'll use the poncho. If it's for outdoor stuff like hiking, pick a tough one. For city use, you might want something stylish and light.
Price and Brand: Good brands usually mean good quality. While there are cheaper options, focus on quality and what you need.
By thinking about these things, you can find a top-notch poncho that fits your life and keeps you dry when it pours.
Conclusion
In summary, these selections offer reliable protection against the elements when it comes to the top waterproof ponchos. Their quality materials and effective designs ensure you stay dry in various situations. From outdoor events to hiking trips, these ponchos are versatile and dependable. With multiple styles and sizes, finding the right fit for your needs is easy. Embrace comfort and practicality by choosing one of these best waterproof ponchos for your rainy-day adventures. All of the mentioned products are tested and reviewed by the professionals themselves.
FAQs
Q.1 Is a poncho better than a raincoat?
Ans: Opting for a poncho offers simplicity and quick coverage during sudden rain, while a raincoat provides more structured protection; choosing depends on your preferences and needs.
Q.2 Are ponchos fully waterproof?
Ans: Ponchos can vary in waterproofing levels, with some offering full waterproof capabilities, but it's essential to check specifications or labels to ensure their effectiveness in keeping you dry.
Q.3 Are ponchos good for winter?
Ans: Ponchos might not provide sufficient warmth in harsh winter conditions, but they can be an additional layer to shield against light snow or chilly winds in milder climates.
Q.4 What are the disadvantages of ponchos?
Ans: Ponchos can limit mobility and visibility due to their loose fit. Wind can also pose a challenge, potentially causing the poncho to flap and reduce protection.
Q.5 Can you reuse a rain poncho?
Ans: Yes, rain ponchos are designed for multiple uses. After each use, ensure it's dry before storing it to prevent mould or damage, allowing you to reuse it as needed.
Bonus: