If you love getting out into nature and breathing in the fresh air, look no further than hiking in spring for your next adventure! Hiking trails come alive with renewed vegetation and animals emerging after a long winter. Whether you're a beginner or an experienced hiker, the tips for hiking in the spring will ensure you have the most enjoyable and safe hike possible as you take on this season's trails. So pull up those hiking boots, lace them tight, grab your water bottle, and let's hit the trail!
What to wear when hiking in spring?
Regarding what to wear for hiking in spring, the most crucial factor is to dress for the weather. Depending on where you are, temperatures and conditions can range from mild to extreme. Additionally, with all of the plants and animals that are newly emerging during this season, be sure to cover exposed skin with insect repellent. 
In general, layers are always a good idea for hikes. Start with a lightweight base layer like a synthetic or wool t-shirt to keep you warm but not too hot. For the next layer, choose items made of breathable fabrics such as cotton or nylon that are still comfortable if you start to sweat. If it's freezing, add a thicker fleece or insulated jacket. 
Note:
IS POLYESTER GOOD FOR HIKING? POLYESTER VS COTTON
When it comes to footwear, wear sturdy hiking boots that provide good ankle support and traction on slippery terrain. Additionally, waterproof shoes are ideal for spring hikes as the weather tends to be wetter during this season. Lastly, remember appropriate socks!
Some best hiking destinations to try out in spring!
Depending on your area, there are various great places to explore. From national parks and forests to local trails, here are some of the best spring hiking destinations:
Grand Canyon National Park in Arizona: The stunning views and unique terrain make this a wonderful place to hike at any time of year. From easy trails to more challenging ones, there is something for everyone! For more visit the official website of Grand Canyon.
Yosemite National Park in California: Take in the breathtaking views of stunning waterfalls, granite cliffs, and majestic mountains as you explore this iconic park. To know more check out this link.
Zion National Park in Utah: This red rock paradise boasts numerous trails, from easy hikes to strenuous treks up cliffs. The best part? You can explore the park all year round! For more click here.
Great Smoky Mountains National Park in North Carolina and Tennessee: An excellent option for beginners, this national park offers over 800 miles of trails with stunning views. For more details visit the official website of Great Smoky.
Acadia National Park in Maine – Take a hike along the scenic coastline or explore the rugged mountains of this national park. Whether you're just getting started or an experienced hiker, this is a great place to explore in spring. Check here.
No matter where you choose, these best spring hiking destinations will surely make for an exciting and memorable adventure! So get out there and enjoy all that nature offers this season!
Tip:
Bonus:
THE 15 BEST LIGHTWEIGHT BACKPACKS FOR DAY HIKING
What is the best time to hike?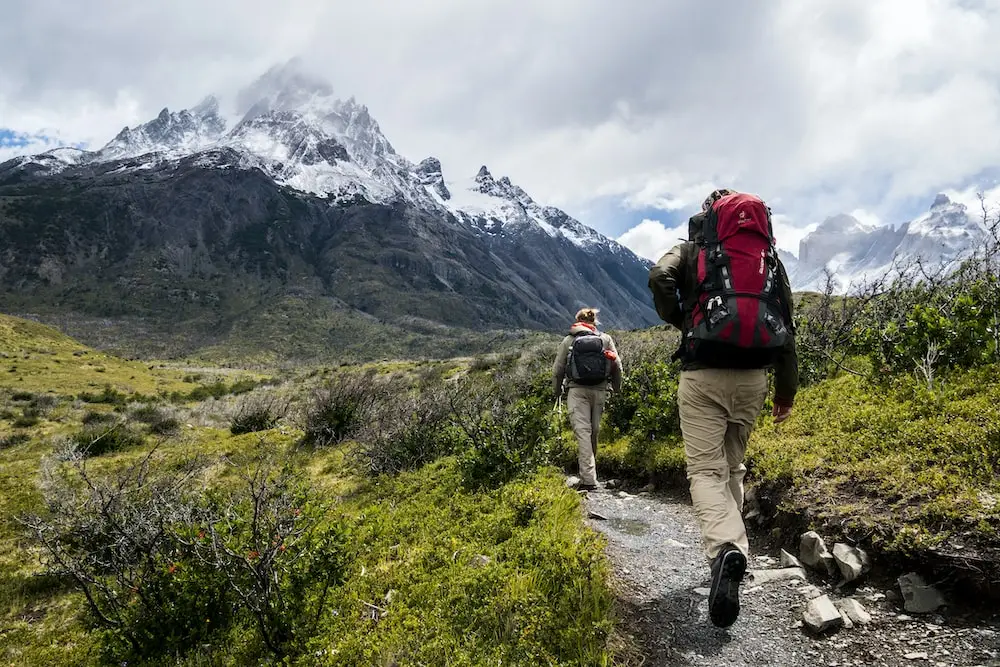 Well, that all depends on your preference. Some prefer to hit the trails early in the morning, while others enjoy an evening stroll after work. The best time to hike comes down to personal preference and comfort level when walking during different times of the day. If you are looking for cooler temperatures, morning hikes may be best.
If you want a more leisurely pace, then evening hikes might be best for you. Additionally, the best time to hike will depend on the location. For example, if you are walking in a desert climate, it is best to try and avoid mid-day because of extreme heat.
On the other hand, cooler climates may have extended daylight hours, making it best to start earlier in the day. Regardless of when you decide best suits your preferences, the vital thing is that you are getting out and enjoying nature! So pick a time and hit the trails! For more ideas visit my Pinterest.
Safety Precautions and Leave No Trace Principles
Hiking in spring can be a wonderful experience, but it's essential to prioritize safety and leave no trace principles to protect yourself, other hikers, and the environment. Here are some critical protection and leave no trace principles to keep in mind when hiking in spring:
Safety Precautions:
Know your limits: Choose a trail that matches your experience level and fitness. Start with easy trails if you are new to hiking.
Check the weather: Spring weather can be unpredictable, so check the weather forecast before heading out. Bring appropriate gear for any weather conditions that you might encounter.
Dress in layers: In spring, temperatures vary widely throughout the day. Dress in layers so that you can adjust your clothing as needed.
Stay hydrated: Drink plenty of water, even if you don't feel thirsty. Carry enough water for your entire hike, and bring snacks to help you maintain your energy.
Avoid hiking alone: Hike with a friend or a group, especially if you are new to hiking. If you hike alone, let someone know where you're going and when you expect to return.
Leave No Trace Principles:
Plan ahead: Research the trail before you go and plan your trip accordingly. Check for any permit requirements or restrictions on camping and campfires.
Pack it in and out: Bring your trash out with you. Do not leave debris or food waste on the trail or in campsites.
Leave nature as you found it: Do not damage plants or wildlife, and avoid disturbing natural features like rocks and trees. Stay on designated trails to prevent creating new tracks that harm the environment.
Respect wildlife: Observe wildlife from a distance and refrain from feeding or approaching them too closely. Give them plenty of space to move around freely.
Be considerate of other hikers: Yield to other hikers on the trail and respect their experience. Keep your noise level low and respect their privacy and personal space.
By following this safety and leave no trace principles, you can enjoy a safe and responsible hiking experience in the spring. Remember to prioritize safety and respect for the environment to ensure that future hikers enjoy the same experience.
Conclusion
Finally, it would be best if you respected the environment around you while hiking in spring. Respect signage posted by local authorities or land management groups and stick to the designated trails. Avoid disturbing animals and plants and leaving behind litter throughout your journey. These tips will help you and others enjoy the spring trails for years! Happy Hiking :)!
Bonus: